Seven Principles Program: Relationship Enrichment for Couples (October)
October 28 @ 9:00 am

-

4:00 pm
Cost: $200 per couple
Description
The Seven Principles Program is designed to provide you with research-based insights and tools to improve your relationship. Through a combination of engaging lectures and couples exercises, you and your partner will learn skills to help you deepen your friendship and intimacy, manage conflict better, and create a shared life together.
This program is based on Dr. John Gottman's New York Times Best Selling book, The Seven Principles for Making Marriage Work. Based on almost 40 years of research with thousands of couples, this book presents 7 principles to help couples focus on each other and the small day-to-day moments that, strung together, make up the heart and soul of any relationship.
---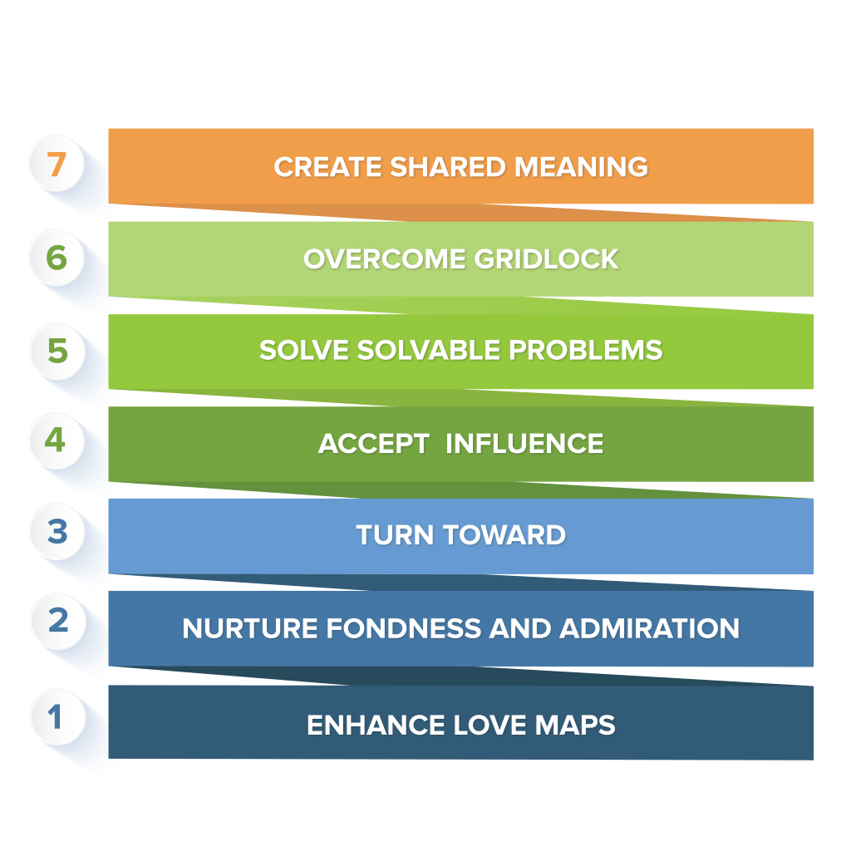 ---
If you have a strong relationship, this workshop will provide you with skills to make it even better. If your relationship is troubled, this workshop will provide you with a road map for repair. Your privacy during this program is important and will be respected. You will practice the exercises privately and will not be required to share personal information with others. No public discussion or disclosure is required to participate in this program.
In the Seven Principles Program, you and your partner will learn how to:
Improve your friendship and affection
Deepen your romance and intimacy
Manage conflict constructively and compassionately
Address perpetual and solvable problems
Create shared meaning and purpose
This workshop is designed for ALL couples in a committed relationship, including:
Pre-engaged and premarital couples
Newlywed couples to senior couples
Couples who wish to strengthen a good relationship
Couples who wish to improve a troubled relationship
Anyone who defines themselves as a couple
NOTE: This program is educational and does not provide counseling or psychotherapy. It is not appropriate for couples who are experiencing severe relationship distress, emotional abuse, domestic violence, active addictions, or anyone who is experiencing severe mental health problems.
Schedule
8:30 AM – 9:00 AM
9:00 AM – 11:45 PM
11:45 PM – 1:15 PM
1:15 PM – 4:00 PM
Check-in
Morning Session
Lunch on your own
Afternoon Session
---
Coffee, water, and snacks will be provided during the morning and afternoon sessions.
Childcare is not available.
Registration
Space is limited for this event! Call (254) 751-1550 today to reserve your spot! You must register and pay for this event by October 27, 2017. Payment will not be accepted after this date. When you register, you will be asked to provide your name, phone number, and email.
Each couple who participates in this program will receive 1 copy of The Seven Principles for Making Marriage Work and 2 copies of the Couples Guide.
---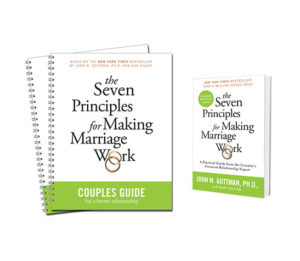 ---
The Couples Guide provides couples with interactive step-by-step exercises for each chapter of the book. Couples can use this guide to record their answers to relationship questions, journal about key concepts, and incorporate tools to build connection, intimacy, and a respectful partnership.
Refund Policy
Refunds will be provided if they are requested prior to October 27, 2017. No refunds will be issued after this date. If your request is approved, a refund will be issued to your credit card (or original method of payment).
Cancellation Policy
Although not expected, events sometimes need to be cancelled due to unforeseen circumstances. If you're registered for an event that is cancelled, you will be notified by phone and email as early as possible. You will have the option to either receive a full refund or transfer your payment to a future event.
Program Leaders
The Seven Principles Program is led by Drs. Rod Hetzel and Susan Matlock-Hetzel, a husband-wife team who have been married for 21 years. One of their life dreams as a couple is to share their knowledge and skills to help other couples develop a loving and lasting relationship. They use current real-life experiences from their own marriage to demonstrate the research-based tools covered in this workshop.
Rod is a Licensed Psychologist who specializes in couples therapy. He has received advanced clinical training in Gottman Method Couples Therapy from Drs. John and Julie Gottman, and is a trained Gottman Seven Principles Program Leader. Rod is an engaging and genuine speaker who weaves together relevant research and real-life examples that will inspire you to live well and love well. In addition to his private practice, he is a Part-Time Instructor of Psychology and Neuroscience in the Clinical Psychology doctoral program at Baylor University. For more information, please browse his website.
Susie is a Licensed Psychologist at the Waco VA Medical Center. She provides residential treatment for combat veterans suffering with posttraumatic stress disorders. Susie also has received training in Gottman Method Couples Therapy. She is passionate about helping veterans improve their lives and strengthen their relationships.
---