The Seven Principles Program: A Workshop for Couples
---
The Seven Principles Program is designed to provide you with new insights and skills to improve your relationship. Through a combination of engaging lectures and couples-based exercises, you and your partner will learn research-based tools to help you deepen your friendship and intimacy, manage conflict better, and create shared meaning and purpose.
This program is based on Dr. John Gottman's New York Times Best Selling book, The Seven Principles for Making Marriage Work. Based on over 40 years of research with thousands of couples, this book presents 7 principles to help couples focus on each other and the small day-to-day moments that, strung together, make up the heart and soul of any relationship.
---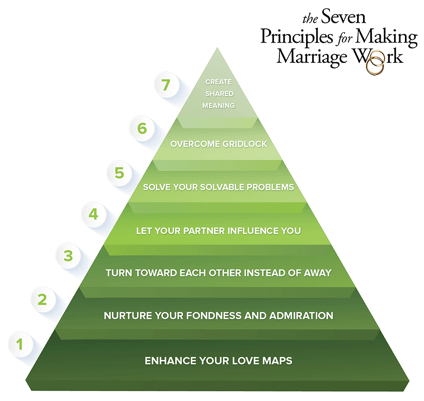 ---
If you have a strong relationship, this workshop will provide you with insights and tools to make it even better. If your relationship is troubled, this workshop will provide you with a road map for repair. Your privacy during this program is important and will be respected. You will practice the exercises privately and will not be required to share personal information with others. No public discussion or disclosure is required to participate in this program.
In the Seven Principles Program, you and your partner will learn how to:
Improve your friendship and affection
Deepen your romance and intimacy
Manage conflict constructively and compassionately
Address perpetual and solvable problems
Create shared meaning and purpose
This workshop is designed for ALL couples in a committed relationship, including:
Pre-engaged and premarital couples
Newlywed couples to senior couples
Couples who wish to strengthen a good relationship
Couples who wish to improve a troubled relationship
Anyone who defines themselves as a couple
NOTE: This program is educational and does not provide counseling or psychotherapy. It is not appropriate for couples who are experiencing severe relationship distress, emotional abuse, domestic violence, active addictions, or anyone who is experiencing severe mental health problems.
Each couple who participates in this program will receive 1 copy of The Seven Principles for Making Marriage Work and 2 copies of the Couples Guide.
---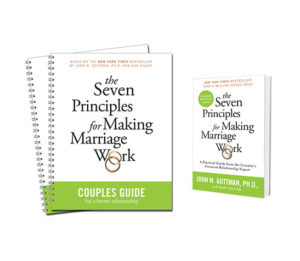 ---
The Couples Guide provides couples with interactive step-by-step exercises for each chapter of the book. Couples can use this guide to record their answers to relationship questions, journal about key concepts, and incorporate tools to build connection, intimacy, and a respectful partnership.
Program Leader
Rod Hetzel, PhD is a Licensed Psychologist and trained Gottman Seven Principles Program Leader. He is an engaging and genuine speaker who weaves together relevant research and real-life examples that will inspire you to live well and love well. For more information, please browse his website.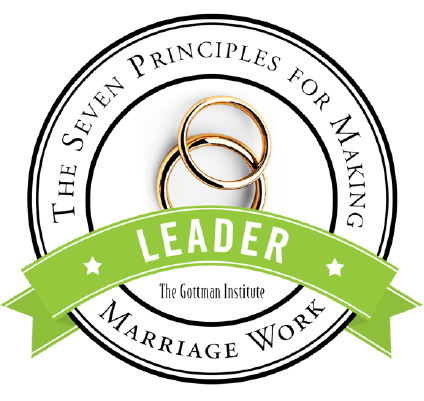 Interested in This Program?
If you are interested in participating in the Seven Principles Program, or would like to discuss hosting the Seven Principles Program for your group, please call me at (254) 751-1550 or submit a request form.